Binance is a crypto exchange that was founded in China and has become one of the largest and most popular exchanges worldwide. Key advantages of Binance are low trading fees, a large selection of tradable coins and tokens and a feature-rich user interface that was designed with experienced traders in mind.
Pros
Binance charges low trading fees compared with other players

Trading Fees

Wide range of coins and tokens available for trading

Coins

Low withdrawal fees for fiat currencies (for example USD withdrawal to bank account)

Fees

The user interface is well-suited for advanced and expert traders

User Interface

Binance insures user funds in case of security breaches with their own insurance fund. Binance insurance fully reimbursed users after an exchange hack in 2019

Insurance

Convenient Lite Trading Mode for simplified trading

Lite Trading

Users can select from 28 language options and easily change the language in the binance app

Languages

Comprehensive investor education on Binance Academy

Education

Binance offers daily, weekly, bi-weekly, monthly DCA savings plans

DCA plans

Binance offers Futures margin trading

Margin Trading
All pros
Cons
Binance does not have an officially confirmed corporate headquarters, Binance is still legitimate, but it is not clear where Binance is based

Regulations

The exchange was hacked in 2019. Investors were reimbursed by Binance SAFU Fund

Hacks

No exact information about the percentage of funds held in cold storage

Storage
A leading exchange with low fees
Binance is undoubtedly one of the leading crypto exchanges and must be part of any serious exchange review. The exchange offers low fees, various deposit and withdrawal options (including PayPal), margin and futures trading, advanced trading and order features, high withdrawal limits, and various customer support options. Despite its outstanding offerings, the exchange is not without its pitfalls: Binance has been criticized because it does not officially confirm where its headquarters is located. Also, the exchange lost Bitcoin worth more than $40 Million during a hack in 2019, but Binance refunded all investors.
Binance in the CryptoStudio-Check
Fiat deposits and withdrawals
Binance is for experienced traders
Binance is especially suited for experienced traders. The user interface offers a vast amount of features which can be overwhelming for beginners. The app and wallet are well organized. Investors who are just starting out with cryptocurrencies can use Binance Lite Trading Mode and read up on the exchange functionalities on Binance Academy.
Binance Homepage
Binance Sign Up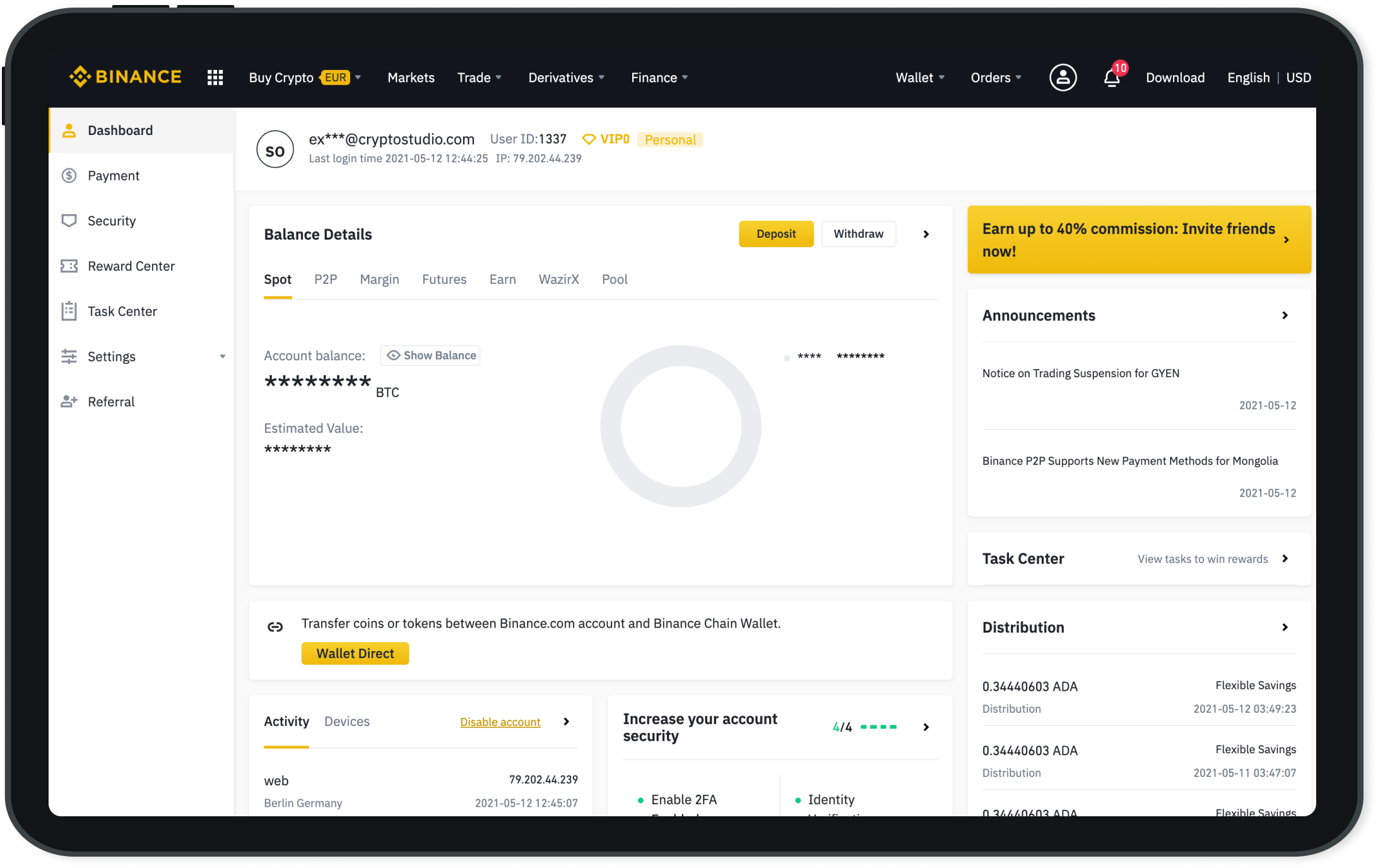 Binance Dashboard
Binance Market View
Binance Security Settings
Binance Spot Trading
Binance Margin Trading
Binance Security Tokens
Binance Lite Trading Mode