Coinbase is based in San Francisco and offers the crypto broker "Coinbase" and the professional crypto exchange "Coinbase Pro," which is designed for professional investors. Coinbase is a safe and legit company that is listed on the US-Exchange Nasdaq.
Pros
Coinbase simple trading interface is easy to use for beginners

User Interface

Officially, Coinbase was never hacked

Hacks

Insurance to protect user funds in case of security breaches

Insurance

Comprehensive investor education on Coinbase Learn

Education

Coinbase offers a support number as emergency hotline to block user accounts

Support

Coinbase is based in San Franciso and is listed on the US-exchange Nasdaq

Regulations
All pros
Cons
Coinbase Pro is only available in English

Languages

Users need a separate account for Coinbase and Coinbase Pro

Lite Trading
Safe, legit, and easy - but expensive
While Coinbase is a broker, Coinbase Pro is a fully functional exchange. Coinbae caters to beginners and makes buying and selling cryptocurrencies extremely easy. Coinbase Pro caters to experts and offers more advanced exchange functionalities. Users need two separate accounts to use both platforms. Coinbase has a high level of security and has never been hacked, unlike most other crypto exchanges. Trading fees are relatively high compared to other exchanges and Coinbase Pro is only available in the English language.
Coinbase in the CryptoStudio-Check
Fiat deposits and withdrawals
Coinbase for beginners, Coinbase Pro for experts
Coinbase caters specifically to beginners. The user interface is designed for simplicity but offers almost no advanced trading features like complex order masks or analytics tools. Coinbase Pro offers tools for professional traders, but unlike other professional exchanges, it does not offer any margin trading. Beginners can learn about cryptocurrency investing at Coinbase Learn and there is an emergency hotline to suspend user accounts if needed. With the two platforms Coinbase and Coinbase Pro, the exchange has something to offer for beginners and professionals.
Coinbase Homepage
Coinbase Sign Up
Coinbase Log In
Coinbase Dashboard
Coinbase Portfolio View
Coinbase Market Overview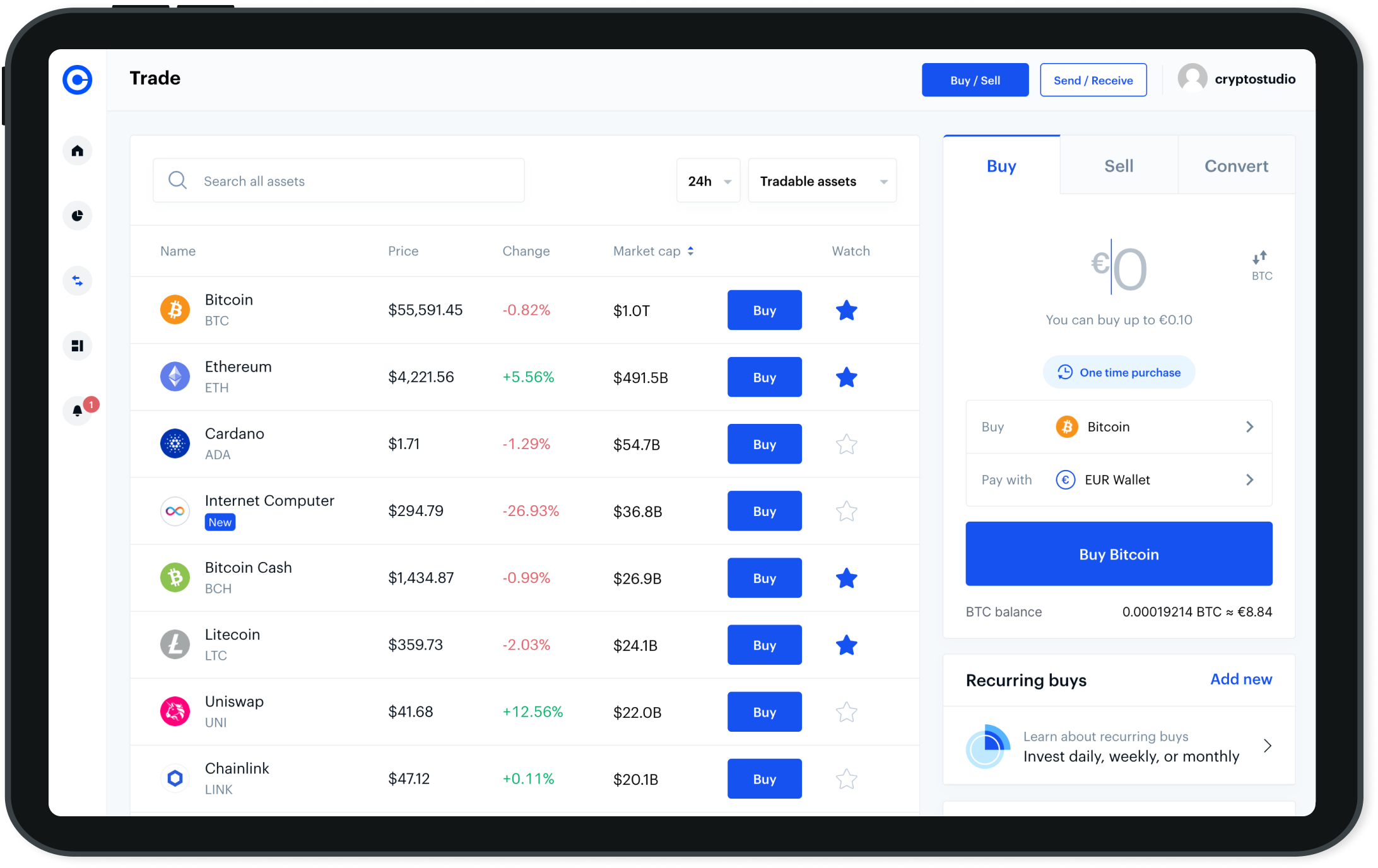 Coinbase Listings
Coinbase Security Settings
Coinbase DCA Plans
Coinbase Pro Homepage
Coinbase Pro Homepage Page 2
Coinbase Pro Markets
Coinbase Pro Trading Interface
Coinbase Pro Fees [May 2021]